My name is Jeff McCartney and I am the originator of WAVEiii.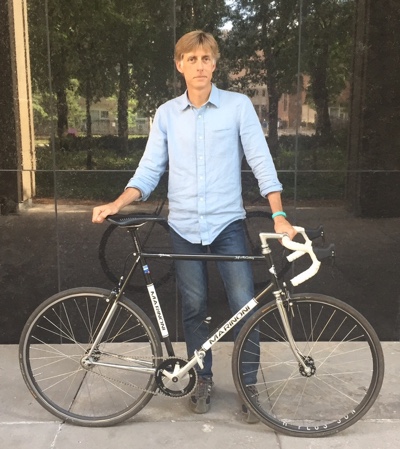 That's "wave three" in case you weren't sure.
When I began competing in triathlon races in the early 2000's, I started logging all my training sessions and race results in a plain old Excel spreadsheet. Most triathletes are obsessed with data and I was no different, so I kept detailed records. Not content with this primitive way of recording my results, in 2006 I launched an online site so I could keep all my race results and training sessions in one place, and track my improvement. A big upgrade over the spreadsheets, which led in 2006 to a partnership with USA Triathlon as the online home of their annual National Challenge Competition. My inner data geek was very happy.
Numbers aren't everything
What I eventually came to realize however, was that the numbers were not the most important thing about the triathlon life. The longer I competed in the sport, the harder it became to achieve the big performance gains. That was frustrating at first but in spite of this, over time I found that my health improved, I felt better physically, had a more positive mental attitude and had more confidence in my daily life.
Setting and achieving goals was a big part of this process - sprint races soon became Olympic distance and long course races, half-Ironman and eventually Ironman distance races. I did things I never thought I could do, and I didn't even start running until my late 30s.
"That's insane"
When I tried to promote the sport to other people however, I heard the same reactions over and over: "I could never do that" or "I don't have the time to commit to training" or more often "that's insane".
I understand why people said those things, and there is a bit of truth to the notion that triathlon or other endurance sports (especially ultra-endurance events) may not be for everyone, although triathlon is now more popular than ever. The most common thing I heard was "yes, but you're fit, and I'm not".
Trust me, I was not so fit when I started out. That came later.
Just keep moving
I am out of triathlon now because of injuries, but I still continue to maintain a healthy lifestyle without the all-consuming commitment to training that triathlon requires, partly through cycling but mainly by just staying active. If you keep moving, the reward is that you get to keep moving.
I believe that the benefits of good health are worth pursuing for everyone. You don't need to qualify for the Hawaii Ironman (I never did) to be healthy in your daily life.
Value your people
If you work for a corporation or other organization of any size, WAVEiii can help you, your employees and colleagues get on the path to better health, or confirm their commitment to it. Is there a direct connection between healthier employees and the bottom line? Maybe. Some studies have suggested that there is. But if you are an organization that values its people, you'll want them them to be healthier and happier in general, and to carry over those qualities into their working life as well.
WAVEiii inititally showed its triathlon roots by being focused on swim-bike-run activities, but it has evolved. More than 70 other sports and activities are included in the mix, so there's something for everyone. Those who are just starting out on their journey to better health can even take part by working on physical but non-athletic acivities, and everyone can compete together. WAVEiii events now also include social and mental health -related activities.
It's worth it
There is no single solution to improving your health. Does it take commitment? Absolutely, but it does not have to be an Ironman level effort. WAVEiii can help get anyone started, and with only a 30 day commitment.
See what past players have to say about their WAVEiii experience on our Kudos page.